The success of first-year starters Kaedan Hermanutz and Lane Heeringa was long overdue
If you paid close attention to Lynden Football's junior varsity team last year, the Lions varsity dominance this season probably comes as no surprise.
A year ago, Lynden's JV team were 8-0 while outscoring their opponents 329-18.
The counts of this offense? The current Lions varsity backfield duo of quarterback Kaedan Hermanutz and running back Lane Heeringa.
"I got to watch them on JV, literally – without offense – rip," said Blake VanDalen, Lynden's head coach. "Lane and Kaedan, in particular, were tornadoes on JV. They were eruptions.
The two juniors, Hermanutz and Heeringa are a big reason Lynden just won the Northwest Conference 2A title on Friday night, beating Archbishop Murphy 38-14.
The Lions are now 7-1 on the season and 5-0 in their league games. They have won their last six games in a row.
It took a long time for the duo to prepare for this exceptional race to the top spot in the conference – even before they stormed JV.
Heeringa moved to Lynden from San Diego when he and Hermanutz were in seventh grade.
The two became friends almost straight away but didn't share a football pitch until they were in first year.
"Coming into first year, we knew we were going to go back together," Hermanutz said. "I think it's helped a lot that we're friends up front because it's fun in the backfield."
This alchemy has been built over time. It became crucial heading into this season, as Hermanutz and Heeringa moved into starting roles on the Lions varsity roster.
Lynden played six games in the shortened 2020 season. Starting quarterback Baylor Ayres and running back Caleb Wheeler were both seniors. Two of the most important positions on the list were about to be won.
"To be honest, not really," Heeringa replied when asked if he plans to host most of the team's races this season. "I knew I was going to play, but yeah, [it's been] definitely a lot more than I expected.
Heeringa added that he had "definitely grown up" as a runner since week one. VanDalen has said he looks forward to seeing Heeringa play this year after his performance last season.
"[Heeringa]"He's a penalty runner who really enjoys contact," said VanDalen. "If he had a choice between bouncing him on the grass and running to the end zone or trucking a kid and running to the end crease, he would choose each time. times to truck a child. "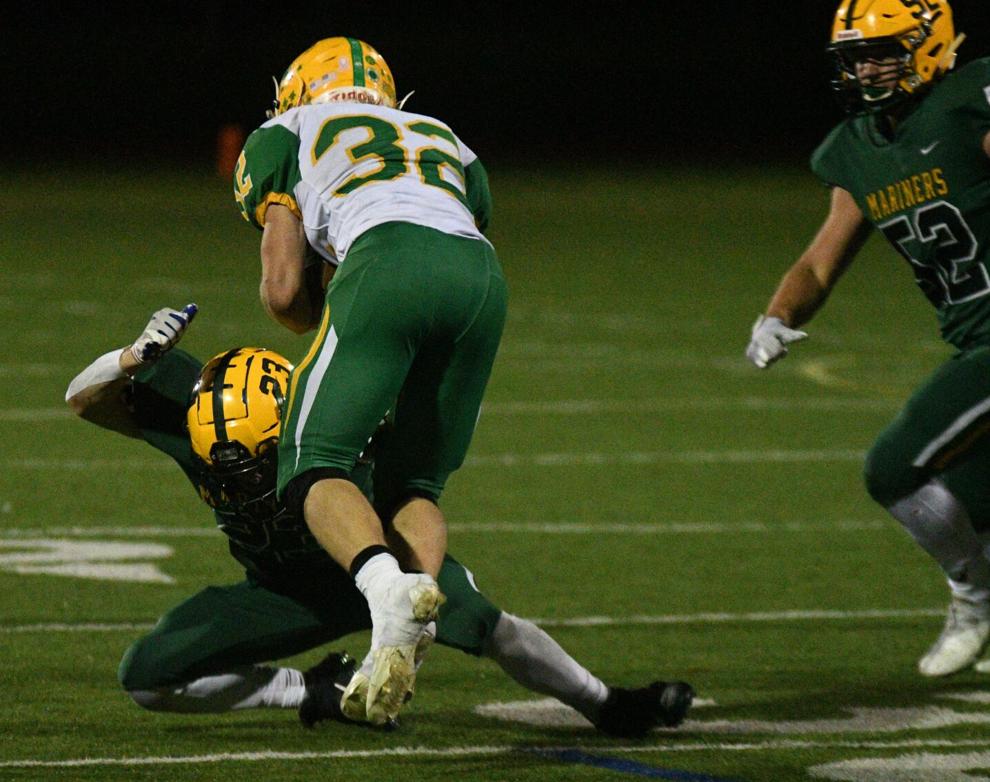 He's taken the "lion's share of races," as VanDalen put it, and Heeringa has two games this season scoring a pair of touchdowns. His biggest rush total of the season came in Week 4 against Burlington-Edison, when he tallied 148 yards on 28 attempts.
A tough runner in attack, Heeringa also displays his physique in defense.
He also starts as a linebacker for Lynden and currently has the team's second-highest number of solo tackles behind senior Taivin VanDalen. Coach VanDalen informed Heeringa ahead of the season that he will play the two most physical positions on the pitch.
"There are only a handful of kids in Lynden's story that we allowed to do because it's so physical," VanDalen said. "We usually make them do an attack or a defense; ball carrier only or linebacker only.
Hermanutz has fully moved on to quarterback after taking on the starting role this season. He had played a defensive back last year, but made the switch to reduce his risk of injury.
Over the summer, Hermanutz was recovering from shoulder surgery that kept him away from most of the team's activities. He was still there; he just couldn't compete at full capacity.
There was a pre-season quarterback competition between Hermanutz and senior Max Moore. However, VanDalen generally likes to deploy a multi-shift system. They both knew they would see the pitch regularly, regardless of the outcome.
"I think we were both totally okay with that," Hermanutz added. "I like having him there and I think he was okay with me there. We just tried to fight against each other… It's competition, but it makes us better and it certainly hasn't separated us.
In the Lions' season opener against Hockinson, Hermanutz was trying to find his place. He rushed for a score, threw for one, but also three steals in the 24-21 victory.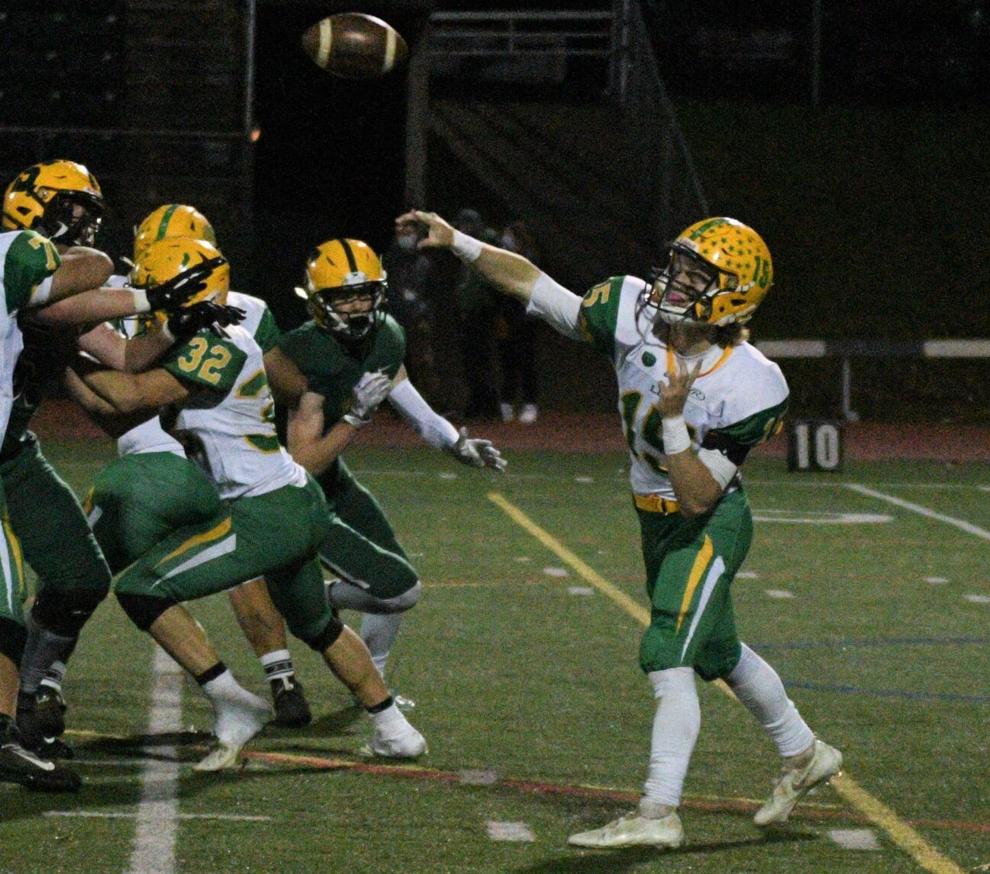 The coaching staff was there to help him get rid of it and reassure him. To say he bounced back from a tough first start by passing football would be a gross understatement.
"I just tried to rinse it out, really, and focus on the good things – just try to develop them," Hermanutz said. "If you worry about the choices, it'll just get to you, right?" "
Since week one, Hermanutz has since racked up a 13-3 intercept touchdown ratio while rushing for four more scores. His best passing performance of the year came in week six, throwing five touchdowns and racking up 208 yards in the air.
The trust these Lions have in each other grows stronger every week, Hermanutz said. While the entire team has contributed to Lynden's success, it's special to see the junior backfield duo evolve in their roles simultaneously.
"[Heeringa] plays a good game, you pat him on the back and say 'good job' and then vice versa, "Hermanutz said. "We're just trying to feel better and improve even when we're back there. "
Both players also praised their coach. It is evident that the culture VanDalen cultivates within his program extends beyond the football field.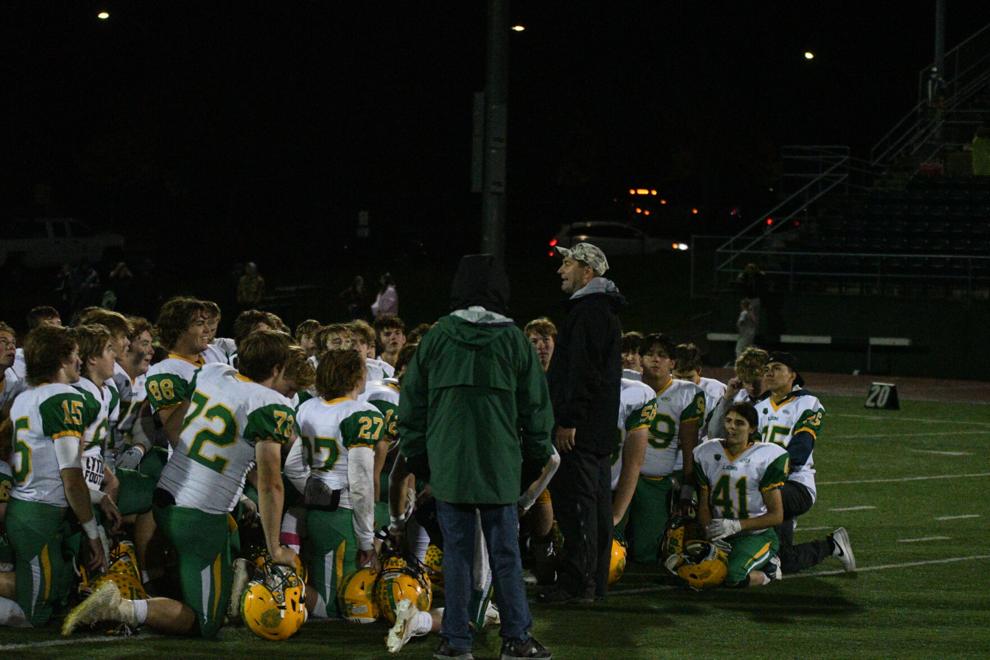 "I feel like it's my uncle or something, [it's] like I've known him my whole life, "Heeringa said. "He's just a really good guy. I trust him, I'll go to him if I ever need anything.
Hermanutz echoed this sentiment. He explained the importance for VanDalen to maintain a close bond with his players to help everyone grow together.
VanDalen highlighted the evolution of his team's cohesion and connection.
"We just love to go and fight together, and this group is one of our tightest groups. These kids love to spend time together, "he said. "It gives a coach great joy, doesn't it? It's fun coaching kids like that in terms of talent, but it's even better when they're great kids too.
The Lions will close their regular season against Sedro-Woolley (5-2 overall, 2-2 NWC) this Friday, Oct. 29 at 7 p.m. Hermanutz, Heeringa and the rest of Lynden's roster will be looking to keep a good thing on their way to the playoffs.